Looking for NQT jobs?
As a Newly Qualified Teacher, the prospect of applications, interviews and securing a long term position to start your induction period can be a daunting prospect. Let Exclusive Education do the hard work for you. Exclusive Education provides a tailored service for Newly Qualified Teachers offering regular work, guidance and advice on working on supply, interview preparation and support in finding a long term role.
Here at Exclusive Education, we offer a range of positions from day to day to long term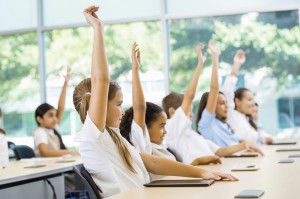 roles which can also lead to permanent positions. Working as a supply teacher gives you the opportunity to gain a range of experience working in different schools. This experience you gain whilst working on supply can also support you in applying for permanent positions due to offering you a range of different experiences to be able to call upon and by building your confidence through dealing with different situations in the classroom. If you have an interest in working with Special Schools, then Exclusive Education can give you the chance to get your foot in the door with one of the many Special Needs Schools that we work with.
We understand that for many NQT's completing your induction period is your main priority. Your dedicated Consultant will ensure they have a good understanding of the type of school and role you want to work with and we will actively seek this for you. We have had lots of success in placing NQT's into roles to complete their induction period. These opportunities can arise from appointments straight into long term roles or through shorter term supply which initially gives you and the school the chance to find out more about each other and then can ultimately lead to longer term roles.
If you are a Newly Qualified Teacher or you are about to graduate and you would like to find out more about working on supply and NQT job opportunities, please click here to submit your details and one our team will be in contact to discuss these opportunities further. Alternatively you can call the office directly on 01925 594940.
If you are looking for an agency that will work with you and treat you as an individual and not a number then Exclusive Education is the right choice for you!