Looking for jobs working in Special Needs?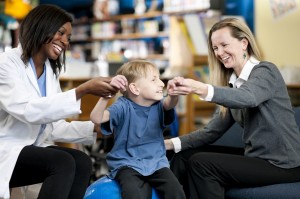 Exclusive Education has long established relationships with a number of Special Schools across the North West, being the agency of choice for many of these schools. Due to this and our outstanding reputation with Special Schools, we consistently have a high demand for Special Needs Teachers and Special Needs Teaching Assistants.
Exclusive Education is committed to providing experienced Teachers and Teaching Assistants to work with children with Special Educational Needs. Here at Exclusive Education, our experienced Consultants understand the importance of ensuring that we place the right staff with the relevant skills and experience required across the SEN spectrum and also that having continuity of staff is key to maintaining a constructive environment for pupils. This need for continuity of staff means that many of our roles are long term.
The roles we offer supporting SEN pupils are both within mainstream schools as well as Special Schools. Our mainstream SEN roles involve working with pupils who have a statement of Special Educational Need or those who have been identified as needing additional support. We also work with a number of Special School who cater for pupils across the SEN spectrum.  The types of Special Schools we work with include:
Specialist Autistic schools
Emotional and Behavioural Difficulties (EBD) Schools
Pupil Referral Units (PRU's) and Short Stay Schools
Moderate Learning Difficulties (MLD) Schools
Severe Learning Difficulties (SLD) and Profound and Multiple Learning Difficulties (PMLD) Schools
Independent Special schools
As a result of this Exclusive Education are continually looking for Special Needs Teachers and Special Needs Teaching Assistants from both a mainstream and Special School background who have a passion for working with Special Needs pupils. We recruit Teachers and Teaching Assistants with experience working with pupils across the SEN Spectrum including:
Emotional & Behavioural Difficulties & Challenging Behaviour
Autistic Spectrum Conditions and Asperger's Syndrome
Speech and Language Difficulties
Multi-Sensory Impairment
Moderate Learning Difficulties
Severe Learning Difficulties
Profound & Multiple Learning Difficulties
Physical Impairment
ADHD
Teachers and Teaching Assistants who have undertaken training courses to support pupils with Special Educational Needs are in high demand. The following training is highly sort after by Special Schools:
Team Teach/ Physical Intervention training
PEC's
Makaton
TEACCH
Hoist training and manual handling
So whether you are an experienced SEN specialist or you are looking to build your experience working within Special Education then Exclusive Education is the place for you. Click here to register.
Finding it difficult to secure a long term role working in Special Needs? Keen to build your experience in SEN? NQT wanting to specialise in SEN? Experienced in mainstream schools but looking to move in SEN education? Working on supply can be an excellent way to get your foot in the door with Special Schools – building your experience and opening up opportunities for permanent positions with schools. Let Exclusive Education find you the job you have always wanted!
Please click here and submit your details and one our team will be in contact to discuss these opportunities further.